– Amit Kalantri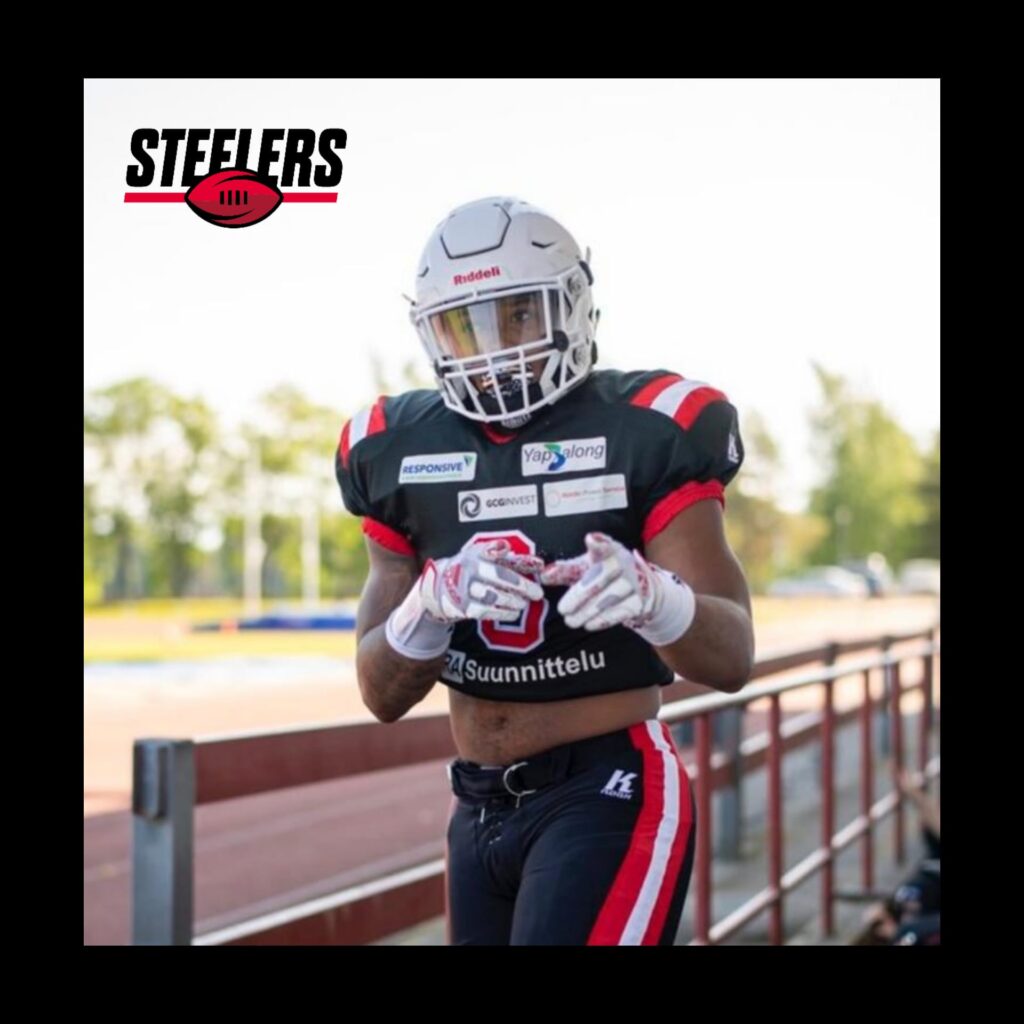 The man of few words, perfect for Finland. …but when he speaks, he says what he means, he is not overpowered by himself, he is humble and curious… His skills peak more about him than his long list of achievements or as he sums it up himself: "I'm a college all American all time tackling leader at my college and a two country most valuable player (MVP). Winning a championship 2021. Maple bowl MVP." You might have guessed it, it is Maurice Wright Jr in the position of linebacker (LB), his here, his back, and he has signed with the Kuopio Steelers for the upcoming season 2023.
Reflecting on the new strategy of the Kuopio Steelers for next season, we are curious to know why head coach Pekka has picked Maurice to support the team, he says:
"Maurice was selected as the 2021 Maple league MVP and the Maple bowl MVP – these are not awards often given to linebackers, anywhere, which tells all about the player. His speed, range, power, knowledge of the game, instincts, turnovers and TDs both on offense and defense are all off the charts. We have had the luxury here of having a superstar at the linebacker position through all our past five seasons in the league, and we will have that again this upcoming summer. Having the past two league MVPs in 'Reese' and 'Ant' back is of course the best possible way of kickstarting the recruiting for the 2023 campaign."
Yes, you read it correctly, Pekka Utriainen will continue as a head coach for the next season. We are more than happy to keep a family together and expand our knowledge to the youngest players. Now back to Maurice…
For Maurice, it seems that being back in the team feels more like a family reunion where you see your relatives after a long time being apart, or as he says "feels good to be back with where it all started with my brothers. Going to be a great time just bonding again and creating something great." Also, his expectations are high, there are not just players in the field, but it takes more than individual passion to achieve your personal goals, you cannot achieve anything without excellent leadership. This is one of his key learnings reflected in his actions of listening and guiding or as he is putting it "I learned that it takes a group to do something great and great leader to set the example." Leading by example seems to be the key source of motivation for the team for 2023. 
Since this season is not his first with Kuopio Steelers, the last time he was with the team was in 2021, we wondered what he has to offer for the team after having enlightening moments of his career. He kept his answer short but filled with the promise of something unseen "a mad beast ready to get out of his cage." That answer might get you excited or scared, a bit, but his words are his promise, and we bet you don't want to miss what is coming next. Stay tuned and enjoy the ride!