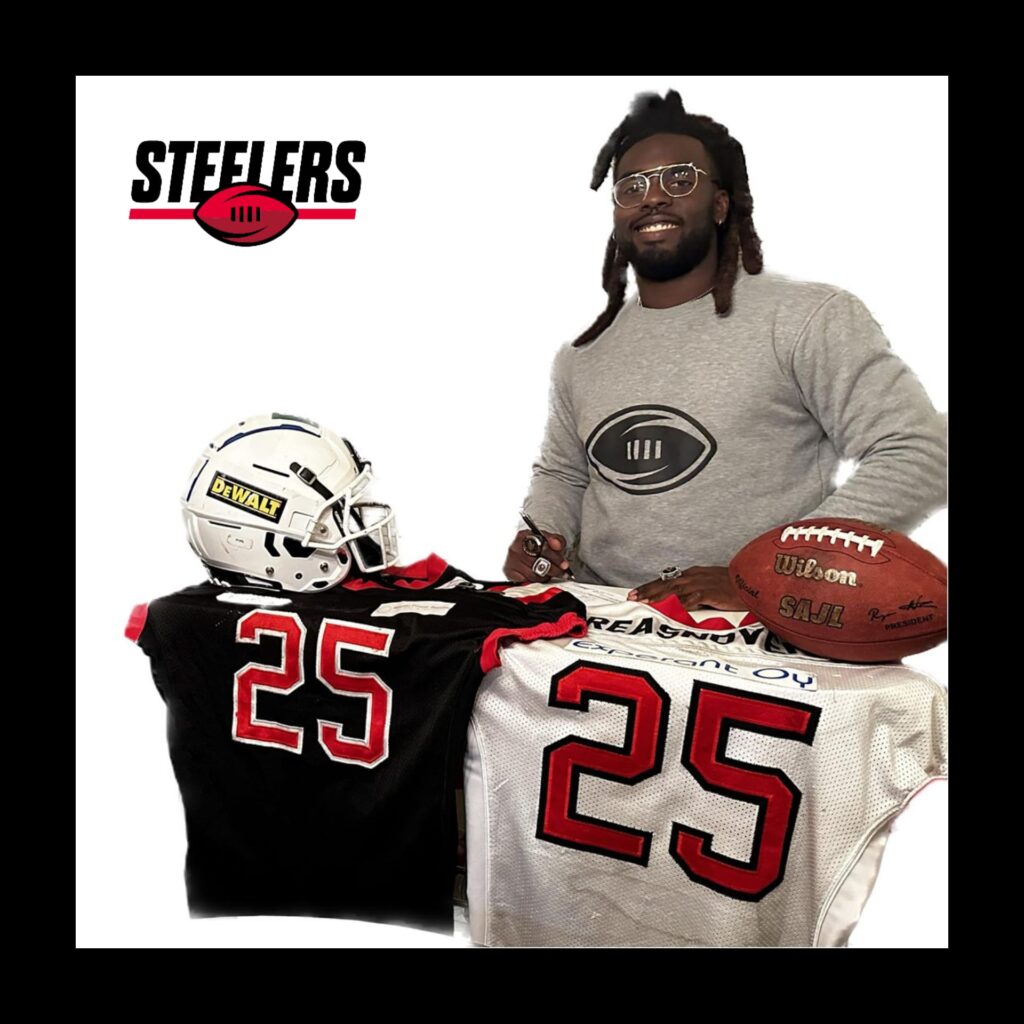 His favorite place to eat in Kuopio is in the restaurant called Kings Crown. It could be the name of the restaurant that keeps louring him back to North Savo. This player does not need much other introduction, his achievements speak for themselves. Welcome back Le'Anthony Reasnover, he has just signed for the upcoming season 2023 with Kuopio Steelers, making it his third season with the club. For those who do not know him (yet), he is a self-made man with a passion for American football. When you ask Le'Anthony to tell his story, grab a sandwich and take a seat, it might take a while. Here is how the master describes himself and his achievements:
"I am Le'Anthony Reasnover, born in Chicago, Illinois Raised in Kankakee, Illinois by way of Sun River Terrace and Momence, Illinois. Coming up from Illinois Gold & Riverside Colts youth football program to playing high school sports at Momence High School "I played behind some of the greatest running backs in Illinois State history". I played Four collegiate years at Eureka College, setting the All-time Leading Rushing Record with over 6,000 yards surpassed, over 600 Career Points Scored, with a sad 99 Career Touchdowns. During my years at Eureka College, I was fortunate to grow and achieve great success. I was a 4-year career starter, we played in 3 Conference Championships, lost the first championship as a sophomore (year two) in college, we learned the feeling of defeat, won ever since. Two NCAA Playoff Games, 2 x All-American 6x selection, Gagliardi Semi-finalist Selection (Division III Heisman Trophy), 3 x All Regional Player, Player of the year 2017 & 2018 (NACC Conference; UMAC Conference), MVP (Most Valuable Player) of Podyum All-Star Senior Bowl 2018, NCAA Leading Points Scorer 2018 NCAA Leading Rusher and Touchdowns 2018, EVERY Eureka College Rushing Record. Holds the Eureka College Track & Field 400 Meters Relay Record! First to do many from Eureka College, Kankakee, Sun River Terrace, Momence, Chicago, Englewood, the whole south side, my family, who raised me, my mother. There's much to be proud of I'm an uncle, a brother, a teammate, a best friend, a man, it's an a honor to be a runningback representing the United States, my neighborhood, my legacy, my family's name."
"Coming into my 3rd season as a Steeler, I have surpassed 1000+ yards in my first two seasons, winning Two Maple Bowls, Offensive Player of the Year, Maple League Player of the Year. Statistical category champion in Pts, TDs, and Yards! I have achieved many great things to be proud of being a professional athlete representing my families name is like not other, still none sit with you like hoisting that trophy up with your teammates at the end of an incredible ride, that I've done 4 times and counting!"
Hold on there is more. Each year the stakes are higher, and the games are more intense and mentally challenging, what does it take from a player to challenge themselves to show to the club that they can do more, be more and give more? It needs courage and as Finnish people call it "sisu" (guts) he has it, never anything seems to be enough and for that reason, he is back to support the team in the upcoming season, we did ask him about his thoughts on coming back, the man delivered:
"I'm ready! Going into year 3 expectations are even higher! We capped a perfect season last year, that's an ultimate challenge to continue setting the standard of how things are to be done. More domination more excellence! Going into this season with the guys we have on this roster we're excited to get on that field with one another and take on all challenges! This a great time, a great moment to be a Kuopio Steeler! We're supposed to be on this level of greatness achieving the many things we want to achieve. I'm excited I have teammates on this team I really can call a friend, I believe in the greatness we have coming, and I'm ready to seize the moment!"
"I really love the environment of the football city here in Kuopio. The culture of Finnish football inside of Europe it's a great thing to see, I'm glad to be a part of the culture of European football, and to be doing it as a Steeler the Steeler way it's incredible! …"
His journey has shown him that the passion for something you love unconditionally is worth every sacrifice for it. The excitement of the game and being part of the club "…Steelers… it's that feeling of loyalty, bond, and encouragement, that brings the best out of us in those moments we really need each other. We're playing at a championship pedigree level, we have what it takes to keep achieving things we all can be proud of. You can feel the morale as a proud fan of the team…"
It is not only about the game that supports his personal goals, but various things also go behind it, for example without extremely motivated coaches and staff in the background would not make players' life more enjoyable. It is nice to hear that our efforts have been noted and are appreciated:
"Not enough credit goes to how skilled our coaching staff is, compared to the big names and teams in Europe, we have homegrown coaches that love this city, passionately love this organization the values and core principles come from those guys with the headsets on commanding our every move, it's kudos to Pekka and the rest of the staff! Their very high level and set the precedent of the results you see on gameday!"
In Le'Anthony's return, his promise to the team is focused on self-development as a player, but not hiding his learnings and keeping them to himself, he is ready to show the team how they can improve and do better with focus, direction, and a lot of passion.
"I am excited to showcase another level of my game, I am only scratching the surface of the heights I will reach by putting the work in and continuing to get better."
Le'Anthony is the man of his word and has proven countless times that he is not to be messed with on the field. He loves the hurray's from the crowd and support from the fans keeps him going, he has been the most active team member to create special social media campaigns to promote the home games with Peter Lundstöm. Without even asking, he delivers, again:
"This 2023 season will be special! Hope you all support the ride this year tell a friend, phone a family member, let them know Kuopio Football has just gone into another phase of dominance, come support we love it all, it motivates us!"