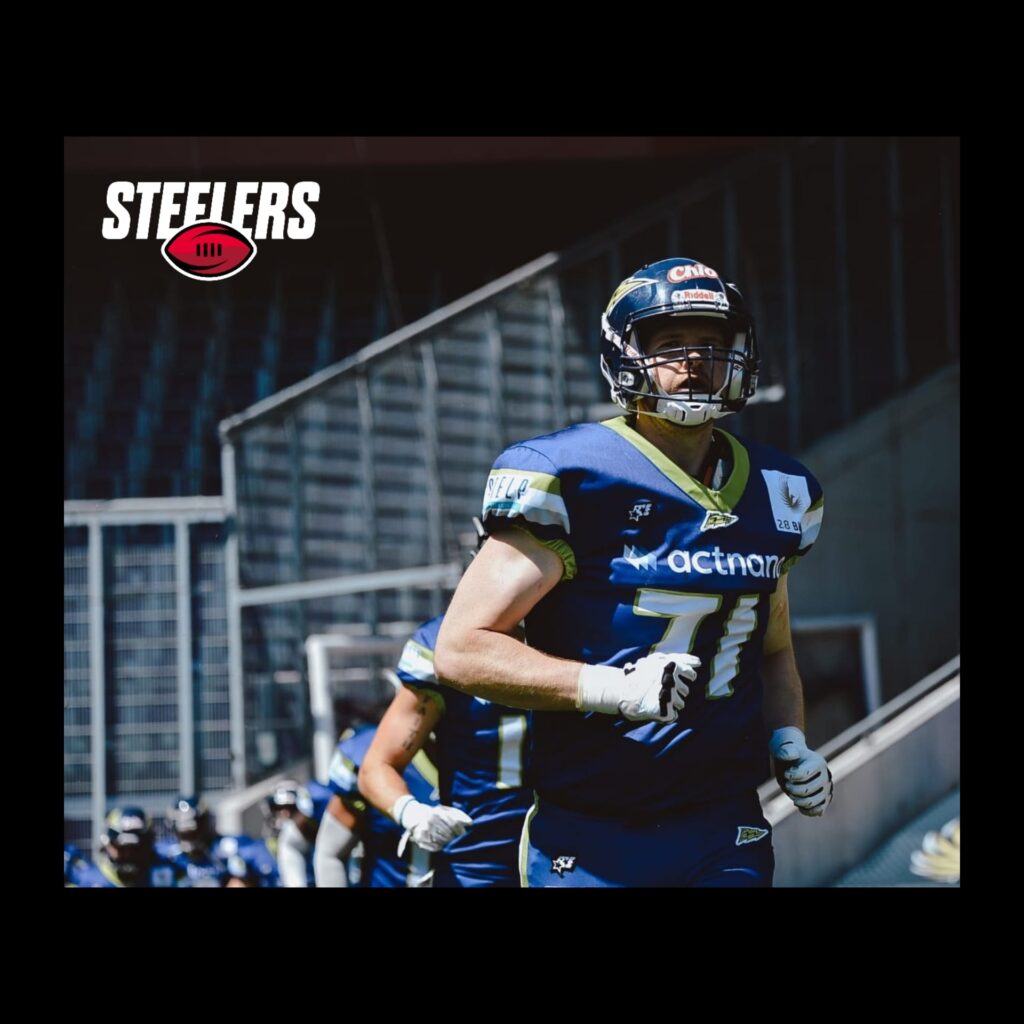 Kuopio Steelers has been familiar to him for years as Finnish champions and over YouTube channel. From Germany, we have another reinforcement in OL – Jan Steiger. His biggest achievement has nothing to do with football, the man has managed to drop his body weight from 190 kg to 118 kg, showing he has the Finnish "sisu" (gut) before he even joins the team in Finland.
His player history can be summed up with words: "I'm 28 years old big man from the South of Germany (Ulm) a played the last 2 years as LT in Stuttgart. It was a good time with bad results… " We are eager to give him a chance to show his abilities with Kuopio Steelers. There is something in him that head coach Pekka has noticed:
"Playing Left Tackle in football is one of the toughest positions in team sports if you ask me, there just aren't too many big, tall guys who can move in space around, so we are very happy and fortunate to get Jan here in Kuopio for the upcoming 2023 season. Experienced guy, really a plug-and-play guy for us, and that always helps. Just have to get the OL unit working together, not needing to learn the position the big guy is playing. Jan has faced top European competition the past two seasons there in the ELF, and the Maple League will likely again have a bunch of really good defensive ends to block. Sure feels good to have Jan as the bookend to Oskari Laitinen playing on the other side of the offensive line."
His personal expectations of Finland touch on the experience of paying outside of Germany "…it's my first time in Finland or playing outside of Germany… my expectations… I want to see the nice country and want to try all the typical Finnish food! And learn a lot about Finnish culture."
On his journey as a professional football player, he has learned about people and the ability to develop yourself you have to be challenged by the best players in Europe. "I learned much about people from different countries… to pay against the best in Europe makes you better and better!" His learnings are reflected in the knowledge that he brings to the team "leadership, smart analysis on the players, hard worker…" not forgetting his promise to be The Funny Guy and to be a role model.
1.98 m, 118 kg and shows size 49, can we now say that we have a bigfoot in a team? We hope he can hear what the coaches are telling him because he is quite tall. We do have high hopes for The Funny Guy package, he can be found on Instagram under the name "blindsidebomber." Make sure you follow him on social media and he will be hard to miss on the field. A warm welcome to Jan!